Bianca Stoica, Scholarship Winner — 2012
Bianca Stoica will be starting her sophomore year of undergraduate study at the University of Pennsylvania's Wharton School in Philadelphia, Pennsylvania, this fall. She is majoring in economics with concentrations in finance and statistics and minoring in mathematics. She is a member of two accelerated programs: the Joseph Wharton Scholars and Benjamin Franklin Scholars. She has maintained a perfect 4.0 cumulative grade point average. Bianca is also an active member of the Wharton Alumni Relations Council, Wharton Dean's Undergraduate Advisory Board, and Wharton Women.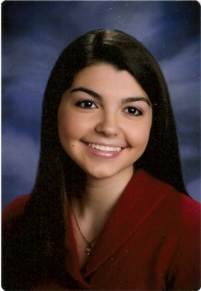 Bianca is originally from Michigan, where she attended the International Academy in Bloomfield Hills. There, too, she was no stranger to academic success. She was the valedictorian, an AP scholar, a National Merit Scholarship finalist, and the winner of the Michigan Social Studies Student of the Year Award in 2010. Along with her academic achievements, she gained recognition in several extracurricular programs that first sparked her interest in economics. Bianca was the Michigan state champion of both the Federal Reserve Fed Challenge Competition in 2010 and the National Economics Challenge in 2009. She is also an accomplished writer, placing second in the nation at the InvestWrite Investment Essay Competition in 2010 and winning the Skandalaris Family Foundation Young Entrepreneurs Essay Contest in 2011. She attributes her success to the influence of her high school economics teacher, Mr. Eschrich, who encouraged her growing passion for the subject.
In Bianca's free time, she enjoys a wide array of activities. She is an avid piano and viola player, and she enjoys swimming, skiing, tennis, traveling, and learning new languages other than Romanian, which she already speaks fluently. Bianca looks forward to being a teaching assistant for her favorite professor, Dr. Asher, this fall. It will not be her first time teaching; she worked for the Princeton Review as an ACT instructor and was a TA for an honors business economics class this past year. In the future, Bianca sees herself continuing her studies of economics in graduate school and furthering her career in the private equity, consulting, and investment banking fields. She also has her sights set on the Federal Reserve, the White House, and the House of Economic Advisors.
Proof Reading, LLC would like to thank all applicants; we received over 100 submissions. All of the applicants should be proud of their academic accomplishments and achievements. Thank you for sharing your thoughts and opinions on the United States debt ceiling crisis.