Rebekah Sherman, Scholarship Winner — 2010
Rebekah Sherman attends Ashland University in Ohio. She will be starting her junior year this fall, and is double-majoring in History and Political Science. Miss Sherman has made the Dean's List every semester that she has been at Ashland University, and has maintained an overall GPA of 3.877. She has always had a love of history, as evidenced by her consistently high grades in the subject throughout her academic career. Rebekah took her first Political Science class during her first semester at Ashland University, which changed her life; she discovered a new passion that led to her declaring Political Science as a major. This year she was appointed to the much-coveted position of Resident Advisor for a dormitory on campus. Rebekah's experiences in this capacity have helped her gain valuable interpersonal skills, such as counseling, problem solving, and being able to point fellow students in the right direction when resources are needed.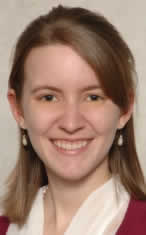 After she graduates, Rebekah would like to do research for nonprofit political organizations with an emphasis on studying voting patterns in order to help local candidates. Rebekah is particularly interested in working with the Focus on the Family organization some day. Before she starts her professional career, she would like to find an internship with a conservative think tank or other political organization of that nature. She plans on volunteering in the political arena after her junior year, through a program offered at Ashland University. She is also looking forward to volunteering in polling centers and with local campaigns. She hopes to get groups of friends together to reach out to constituents in her community.
Rebekah would also like do archival work for museums, such as the Smithsonian in Washington, D.C., or governmental libraries, such as the Library of Congress or one of the few Presidential Libraries across the country. Rebekah has no specific plans for graduate school, but feels that she may want to work for a few years in a field related to her major before deciding to further her education. She would ultimately like to be in a career that involves writing. She hopes to be writing for publication, and has a strong interest in writing history for small children. She feels that the subject of history is overlooked for the youngest audience, and would like to fill that niche someday.
Rebekah is particularly proud that she organized and runs a Bible study group on campus for young women with the same major. She is very active in her church and works with children's ministries. This past summer, she led a group for middle school girls at her church. Rebekah and another college student were asked by the youth pastor at her church to lead the summer program and mentor middle school girls in the congregation about being a Christian girl in public school, understanding the importance of modesty, and successfully dealing with peer pressure. The mentoring college students also shared their own personal high school experiences with the younger girls who were about to enter high school for the first time.
Rebekah loves the theater, and looks forward to being involved in community theater when her busy schedule permits.
Proof Reading, LLC would like to thank all applicants; we received over 140 submissions. All of the applicants should be proud of their academic accomplishments and achievements. Thank you for sharing your thoughts and opinions on the current state of the American auto industry.