Michael Patini, Scholarship Winner — 2013
Michael Patini is a sophomore at the University of Pennsylvania in Philadelphia. He has earned a cumulative GPA of 3.875 and is majoring in earth and environmental science at UPenn's College of Arts and Sciences. He is not only on the dean's list but is also accomplished in his extracurricular activities. He was on the founding board of his school's poetry club, The Body Electric, participates in the Vegan Society and the Waste Management Committee, speaks Italian, is an athlete, and is a talented musician and lyricist.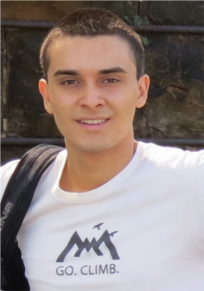 Michael is originally from Riverside, CA, where he spends his summers with his parents, younger sister, and golden retriever, Goldie, who they rescued from the street twelve years ago. When he is not writing music, taking singing lessons, or playing the guitar, piano, or ukulele, he is preparing for a career focusing on the environment. If he does not follow the public sector path and work for a government or municipality, he may follow his dream of opening his own company and creating sustainable solutions for environmental problems. He is also considering pursuing a PhD at UPenn. Michael's favorite teacher, Helen McFie-Simone, inspires him with her passions for Italian and teaching. He looks up to his other role model, famed PX90 creator Tony Horton, for spreading fitness awareness to the masses and encouraging a healthy lifestyle.
Michael is a well-balanced, intellectually curious, and bright individual. Michael says, "I would like to thank Proof Reading, LLC for their generous support of my education. Reading and writing are important, and it is to my love of reading and writing that I attribute any successes I have had." Best of luck, Michael. We are proud to have you as a part of the Proof Reading, LLC team!
Proof Reading, LLC would like to thank all applicants; we received over 100 submissions. All of the applicants should be proud of their academic accomplishments and achievements. Thank you for examining the similarities and differences between the Great Depression and the United States' most recent economic downturn.