Melissa Iori, Scholarship Winner — 2014
Melissa Iori is currently a sophomore at Marist College in Poughkeepsie, New York. She has earned an extraordinary 3.925 cumulative GPA thus far. Melissa is majoring in Computer Science with a concentration in Software Development and minoring in Creative Writing. She recently was awarded a prize for her internship at IBM for creating a new network interface.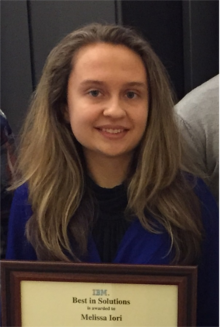 Melissa and her family are originally from Poughkeepsie. She is the youngest of two; her sister also attended Marist College in their hometown. Melissa excels not only in academics but also in extracurricular activities. She is an active member of her school's computer club, which meets to share programming tips and have discussions with industry leaders. Her favorite professor at Marist, Dr. Anne Matheus, has encouraged, inspired, and challenged her to advance her career in computer science and follow her dreams. After graduation, she would like to continue her career in computer science, focusing on either artificial intelligence or big data. She also enjoys writing science fiction short stories and raising her three birds.
Melissa was very grateful and honored to receive this year's scholarship award. She states, "Thanks, Proof-Reading! Education is my top priority, in both Computer Science and English. For me, writing isn't just a valuable skill, it's a technique. Honing that technique has helped me immensely, both in my education and in my daily life. Thank you so much for your support." Her essay discussing America's surveillance policies stood out among submissions from 400 other applicants. Best of luck with your studies, Melissa. We are proud to have you as a part of the Proof Reading, LLC, team!
Proof Reading, LLC would like to thank all applicants; we received over 400 submissions. All of the applicants should be proud of their academic accomplishments and achievements. Thank you for detailing the pros and cons of modern security and surveillance.